Making money as a YouTuber can be tough. Of course, you can earn some money with YouTube ads, but the process can be a slow and frustrating one; one and many YouTubers find themselves collecting a few dollars here and there — spare cash instead of consistent earnings. 
A great additional source of revenue is selling branded merchandise to your YouTube fans.
Regardless of the topics you cover in your videos, you can sell merchandise that contain slogans and phrases you use often or pictures and avatars of yourself. 
In this article, I will be going over the best merch sites for YouTubers. Not all merch sites integrate with YouTube, so it is important to look for the ones that do. 
What Is The YouTube Merch Shelf?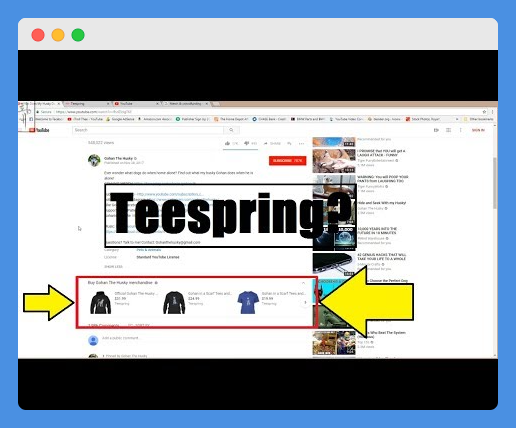 The YouTube Merch Shelf is a virtual "shelf" that displays merchandise and other products under your videos on YouTube, both on the website and in the app.
However, to be eligible to have a Merch Shelf displayed under your videos, you must either have 10,000 subscribers or be a music artist who has an Official Artist Channel. 
Best Merch Sites For YouTubers
All of the sites on this list are retailers that are approved and supported by the YouTube Merch Shelf program.
Let's take a look.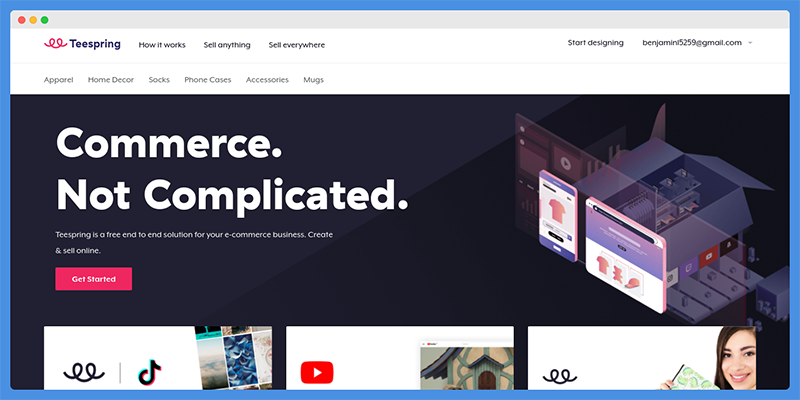 This is primarily due to the fact that it is one of the select popular merch sites that integrate with YouTube and allow you to set up a YouTube merch shelf under your videos (all merch sites in this article have this feature). 
In other words, instead of having to insert a link to your product in your video description, you can display them under your video, complete with pictures and pricing, on a virtual "shelf."
Your fans can select which product they want straight from that shelf and then proceed to checkout. 
All of Teespring's products are sold through the Teespring marketplace. You get to set up your own "storefront," complete with your products and branding, on the Teespring domain. 
You can sell t-shirts and all other kinds of clothing, as well as mugs and other cool accessories. Teespring is very easy to get started with, and it is also to make money with it. 
Each product will have a base price, and you will have to add a few dollars onto that base price (this will be your profit). Teespring will then keep the base price and pay out the extra profits to you. 
As such, Teespring is perfect for those who have active followings on both YouTube and Twitch. Over the years, people have made millions by selling on TeeSpring. 
As you can see, TeeSpring is a notable print on demand player in the market. So much so that it gives a tough fight to some of the more popular print on demand names like Printful, Printify, Spreadshirt, and others.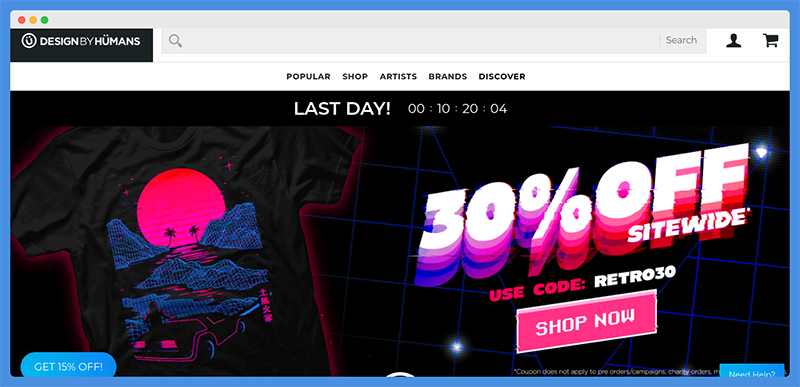 Design By Humans focuses primarily on t-shirts, tank tops, and sweatshirts. However, they do give you the option of selling various other items, such as art prints, stickers, phone cases, and mugs. 
Unlike Teespring, however, Design By Humans does not allow you to control how much you earn. 
If you are a Teespring seller, you can set your margin to whatever you want. If the t-shirt costs $10, you can sell it for $30 if you know your fans will buy it. 
However, Design By Humans has set royalties that all sellers are bound to. 
The royalty scheme is very simple. You will earn: 
$3 for every t-shirt or tank top you sell
$3.50 for every baseball tee you sell
$4.50 for sweatshirts
$3.50 or $4 for phone cases (depending on whether it is soft or hard)
$0.50 for stickers
$2.50 for mugs
$2.50-$6.50 for art prints (depending on the size)
Design By Humans is a good option if you want uncomplicated royalties and only plan to sell t-shirts, tank tops, sweatshirts, phone cases, stickers, mugs, and art prints. 
Check Out: Best Print On Demand Sites

Sellfy is a print on demand platform that allows Youtubers to sell branded hoodies, t-shirts, mugs, hats, and other items. 
For the purposes of this article, however, we'll be focusing on the physical products. 
You can create a customized storefront for your products, which you can connect to a custom domain. The storefront and checkout page will be optimized for mobile devices, so your viewers on the YouTube app won't be left out. 
You can even offer your YouTube viewers special discount codes to create scarcity, FOMO, and an incentive to buy your products. Other marketing tools YouTubers can take advantage of include email marketing automation and tracking pixels.
One way to market your products to your YouTube viewers is to promote your products on YouTube cards and at the end of your videos, on the end screens. 
End screens allow you to link to products and offers, as well as approved merchandise. Since Sellfy is approved by YouTube, you'll be able to link to your storefront on a Sellfy domain from the end screens – as long as you're part of the YouTube Partner Program. 
Cards are similar – they slide in from the side when clicked on. Again, if you're selling on a Sellfy domain and meet the requirements of the YouTube Partner Program, you'll be able to link to your products. 
Another option is to simply include links to your products in the video descriptions or comments. That is also a great option if you are not eligible for the YouTube Partner Program. 
We earn a commission if you click this link and make a purchase at no additional cost to you.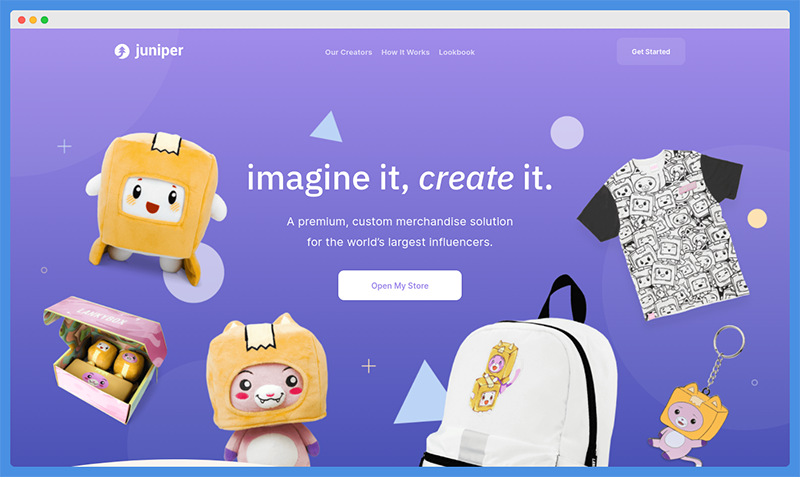 Juniper is for more serious YouTubers who want to sell highly customized merch. If you use Juniper, you will get access to perks such as unlimited product options, in-house designers, and your own account manager. 
If you don't want to stick to the same old t-shirts and mugs that everyone else is selling, Juniper is a great option. You can see some examples of the products they have helped their YouTubers sell in this Lookbook, which include: 
Custom plushies
Custom vinyl figurines
Clothing (t-shirts, hoodies, caps, etc.)
Mugs
Pins
Blankets
Custom puppets
Boxes
Backpacks
Stationary
Lunchboxes
And more
Another benefit of using Jupiter is that you can make more sales and get more conversions. The Juniper marketing team will work with you to help you come up with strategies to promote your merch, including social media marketing strategies and more.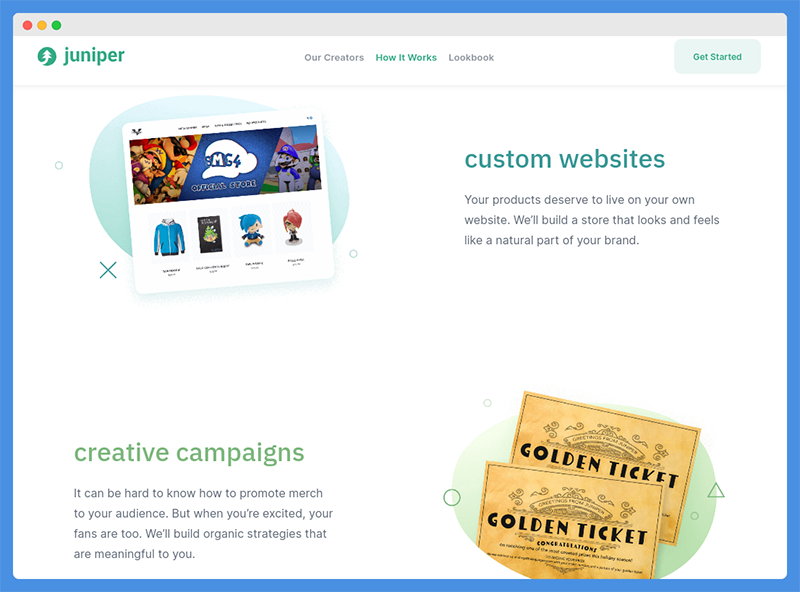 This is because there is more planning and work to do to build a solid foundation for your merch business, including: 
Three days for designing your products
Two weeks to create a sample
Three days to ship the sample to you so you can assess its quality
One week to launch your website 
The best part is that the entire setup process is free. 
However, as a seller, you will have to give 35 percent of the profits to Juniper. The rest (65 percent) you get to keep.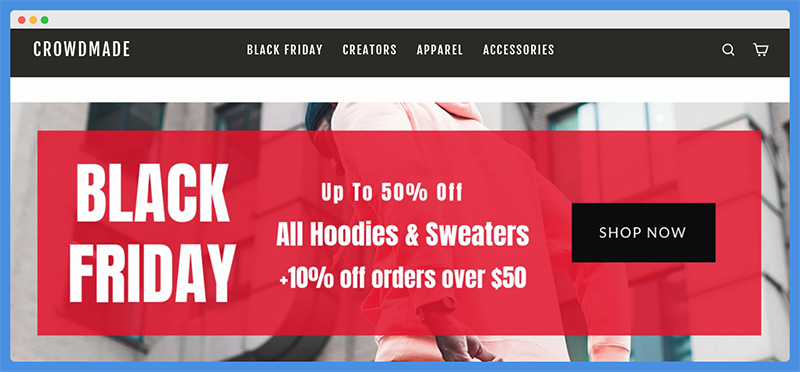 Like Juniper, they can create custom products for you, so you won't have to sell the same old boring t-shirts that everyone else on YouTube is selling. 
Crowdmade has a lot of demand products to choose from. When it comes to clothing, you can sell beanies, caps, vests, ponchos, skirts, pants, face masks, and many other items, as shown in this screenshot: 
In addition, you can sell various other kinds of products, such as bottles, glasses, tote bags, stickers, cards, pillows, kitchen items, bathroom items, phone cases, and a lot more. 
Crowdmade has four levels of membership for creators: 
Silver:

 

This is the baseline membership tier that all creators get. It is free, and it includes access to all products and basic account management support. 
Gold:

 

Creators who want to take their game to the next level can sign up for a premium Gold membership, which will give them access to even more products, better pricing, a dedicated account manager, complimentary samples, and a complimentary design. 
Platinum:

 

Platinum members get access to Platinum level pricing, custom manufacturing, an executive account manager, a custom storefront, two complimentary designs, and more. 
Diamond:

 

This level is by invitation only and comes with a number of special perks. 
If you just want to sell standard products, the Silver membership will be just fine for you. However, if you want to take your game to the next level and sell custom products, the Platinum membership is a better choice. 
If you simply want to get better pricing and a dedicated account manager, consider going for the Gold membership. 
However, to qualify to use Crowdmade, you need to have at least 100,000 subscribers on YouTube. If you have fewer than that many subscribers, you should use Teespring instead.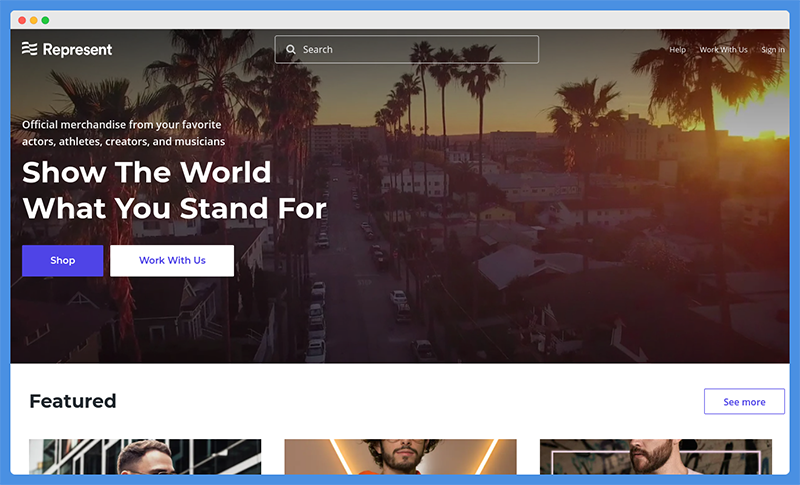 Represent is a full service merchandise and representation company. They will take care of the entire process for you, from designing your products to shipping them to your customers. 
Although Represent usually does not create designs for sellers, there are opportunities for collaboration if you have a substantial following.
The strategy team will work with you to come up with a marketing plan to promote your products to your fans. 
The marketing team will take care of PR, social media posts, email marketing, and more. Representatives will also take care of sourcing, manufacturing, and shipping. 
They will even help you display your merch at live events, taking care of staffing and more.
You will even be able to enjoy a full customer service team working on your behalf to keep your customers happy and manage their orders and requests. 
To apply to work with Represent, fill out the contact form on this page. Not all YouTubers will be accepted, as it will depend on whether you have a solid following. 
You have full control over how much you earn, as you can set your own pricing. In addition, Represent will ship to most countries, so you can work with them regardless of where your fan base is primarily based.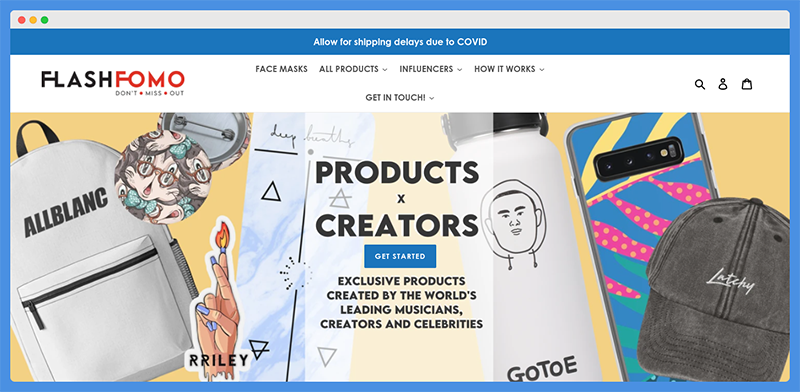 Flash Fomo will ship all products directly to your customers, and they will even take care of customer service for you.
However, they seem to specialize primarily in clothing, though they have a wide range of clothes available, including towels and shoes. 
One downside of Flash Fomo is that it is not entirely free to use, unlike Teespring. Instead, there are different membership plans, based on what you want to sell. 
Here are the plans currently available (make sure to check out the Flash Fomo pricing page for updated information): 
Basic – $19/month:

 

The basic plan only allows you to sell nine best selling products. You also won't get custom design services, free samples, or a custom store. The transaction fee for Basic members is 4.99 percent. 
Premium – $99/month:

 

Premium members can sell all of the 500+ products. They also get custom design services and one free sample, as well as customer service for their customers, but no eCommerce site setup. Transaction fees are lowered to 4.59 percent. 
Business – $299/month:

 

Business members get three free samples and a custom eCommerce site setup. Transaction fees are 4.29 percent. 
Enterprise – $1500/month:

 

The Enterprise plan is highly expensive and you probably don't need it. It is good for those selling in China as it includes WeChat integration and live stream selling. Transaction fees will be 3.99 percent. 
However, another downside of Flash Fomo is that it can take two to 14 days for fulfillment in addition to shipping time (which can take up to 20 days due to Covid delays; in other words, up to 34 days in total).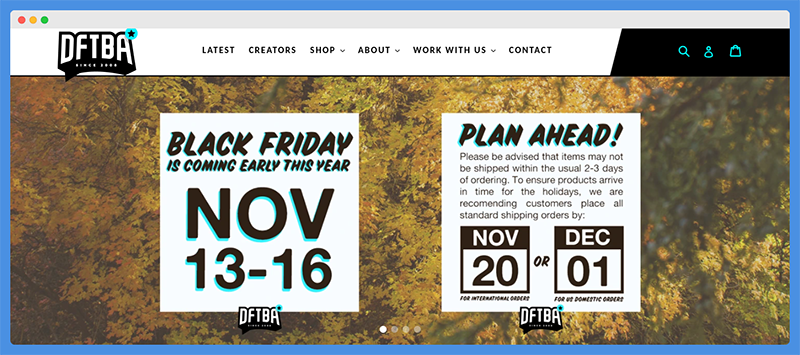 Don't Forget To Be Awesome, or DFTBA, is another merch company that provides services for influencers and channels such as VlogBrothers, Noble Blood, Andrew Huang, Mike Falzone, Delete This Podcast, Eons, Hank Green, Nathan Zed, Radio Ambulante, and more. 
DFTBA was founded by John and Hank Green. It is a good choice if you are looking to make a difference in the world, as Don't Forget To Be Awesome claims that they give over 90 percent of their profits to charity. 
By using Don't Forget To Be Awesome instead of other merch companies, you will not only be able to earn a profit yourself but will also help make the world a better place.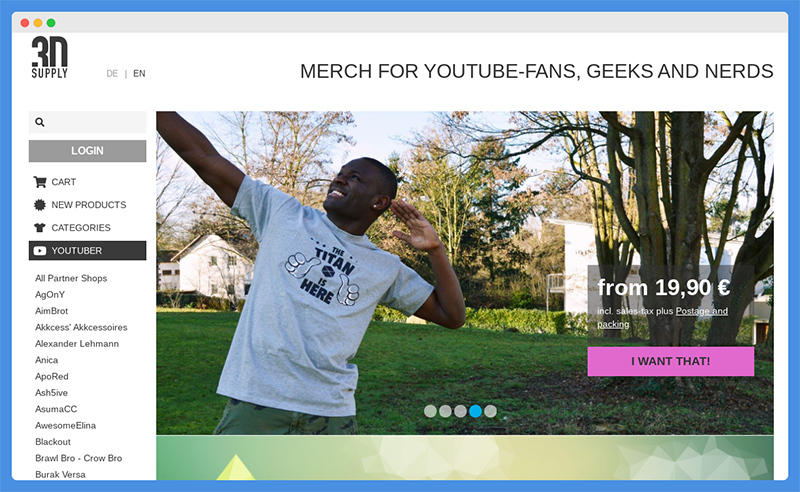 The 3D Supply website is available in both German and English. 
3D Supply will set up a shop for you for free. Not only that, but they will create designs based off your videos or ideas and help you promote your products in unique ways. 
For example, if you are willing to travel to Bielefeld, where 3D Supply is based, they will use their photo studio to take awesome product photos, which can help you get more conversions. They can also help you create autograph cards. 
3D Supply focuses primarily on shirts and other clothes. In addition, they want you to have at least 75,000 YouTube subscribers before applying, or they won't work with you. 
3D Supply ships to all of Europe, including Germany, Austria, Switzerland, Greece, Portugal, Ireland, the UK, France, Kosovo, and many others — even Turkey!
However, they do not ship outside of Europe. That's why 3D Supply is only good for European YouTubers or YouTubers who create videos geared towards a European audience.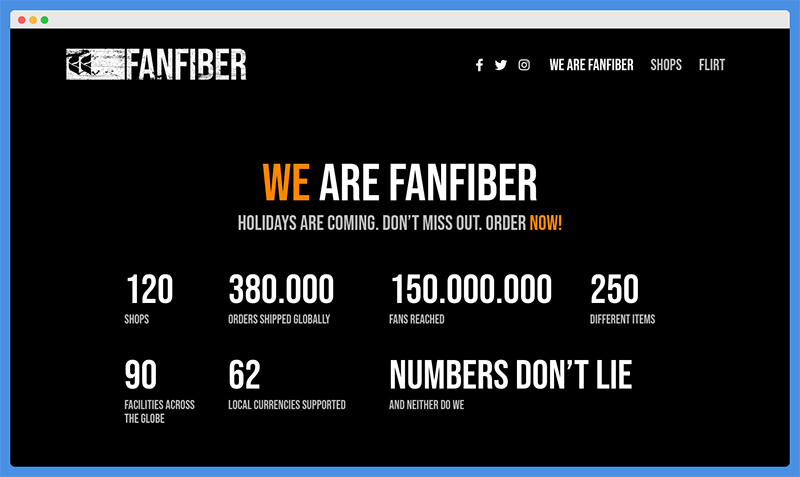 Fan Fiber claims to have over 90 facilities around the world and to have shipped over 380,000 orders. They say that they allow YouTubers to sell over 250 items. 
Fan Fiber claims that they provide fan apparel for only "premium talent." You can apply to get a Fan Fiber store by sending an email to store@fanfiber.com.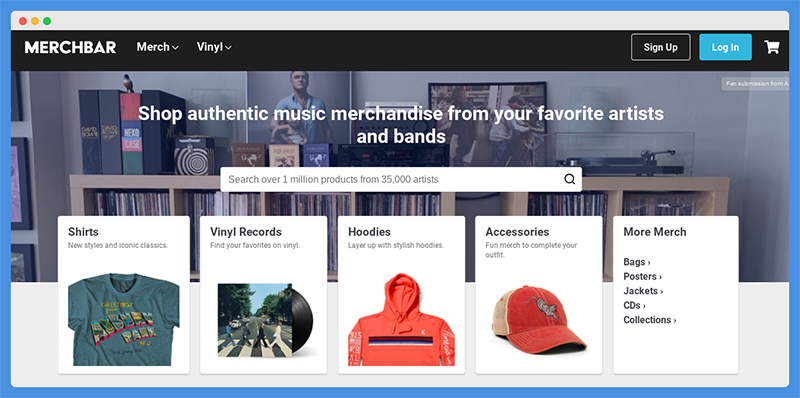 Merch Bar is only for Official Artist Channels, so if you run a music channel on YouTube and are an artist looking to sell gear to fans, Merch Bar is a great option. 
This is because in addition to the standard merchandise, such as shirts, hoodies, and caps, you can also sell merchandise that are unique to musicians, including vinyl records and CDs. 
It is free to get started with Merch Bar, but you will need to fill out this application form.
Wrapping It Up: Which Is The Best Merch Site For YouTubers? 
I would recommend Teespring as the best merch site for YouTubers, as it is easy to get started, you don't need a minimum number of subscribers to qualify, you don't need to fill out an application form, and it is free to join. 
In addition, there is a wide range of products available for you to sell.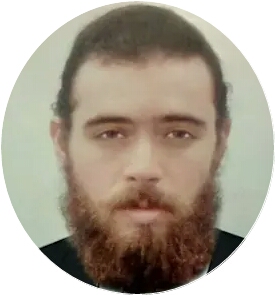 Benjamin Levin is a digital marketing professional with 4+ years of experience with inbound and outbound marketing. He helps small businesses reach their content creation, social media marketing, email marketing, and paid advertising goals. His hobbies include reading and traveling.